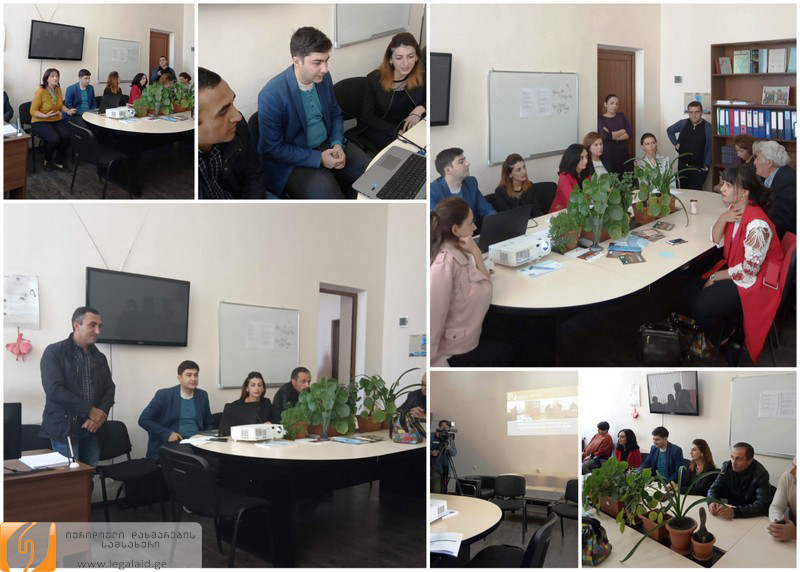 The LAS Samtskhe-Javakheti Bureau lawyer Davit Teliashvili and the consultant of Akhalkalaki Consultation Center Vasil Balakhadze held meeting with the employees of Ninotsminda local self-administration bodies and the local population. The meeting was carried out with the participation of the representative from the State Minister's Apparatus on Reconciliation and Civic Equality. It is worth to note that Legal Aid Service is a member organization of the inter-agency commission that works on gender equality, violence against women and domestic violence issues. The mentioned commission elaborated Communication Strategy 2918-2020 on Violence against Women and Domestic Violence which implies several important activities throughout the country in 3 years.
The lawyer Davit Teliashvili showed presentation to the Ninotsminda residents depicting what domestic violence and violence against women means, what are legal guarantees for the protection of victims and to who victim/alleged victim should apply in case of such violence. The presentation was followed by discussion. The meeting participants asked questions about issues they were interested in and received full answers from the LAS Akhalkalaki office consultant Vasil Balakhadze. The locals underlined that the number of applications of domestic violence cases has been increased recently. Earlier such cases were hidden.
Such meetings, frequent discussions and giving more information to the population will facilitate to reveal facts of violence and further respond to it. The meeting participants received special brochures indicating that victims/alleged victims of violence against women and domestic violence can apply to Legal Aid Service to protect their rights via personal as well as telephone/online consultation services (hotline: 292 00 55; www.legalaid.ge; Skype: legalaid.ge, Facebook: legalaid.ge).
Moreover, in order to receive legal assistance, one can apply to the LEPL State Fund for Protection and Assistance of (Statutory) Victims of Human Trafficking 24-hour consultation hotline: +995 32 116 006 or 112; the call is free from all mobile networks.