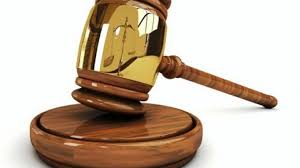 The court trial regarding the incident which took place in Ozaani village, Dedoplistskaro district, in January, 2014, finished in May, 2018. The head of the LAS Kakheti-Sighnaghi Legal Aid Bureau – Tamaz Gurashvili defended interests of the accused woman – Ts.L. on the basis of the compulsory defense.
According to the prosecution, Ts.L. broke into the apartment of N.A. against will of the owner. The prosecution started on the basis of the article 160 of the Criminal Code of Georgia (envisaged punishment: fine or correctional work up to 2 years' term, home arrest from 6 months to one year or restriction of liberty up to 2 years).
The evidence of the prosecution was minutes of questioning of victim and witnesses, as well as written evidences.
The public lawyer got introduced with case materials, talked with the accused Ts.L. and elaborated strategy of defense. The defendant told to the lawyer that he never had been at N.A.'s house without permission.
Several trials were held. The public lawyer, Tamaz Gurashvili, underlined the fact that evidences of the prosecution did not prove guilt of Ts.L. directly. Out of the 10 witnesses who were questioned one was a victim and 8 were policemen. Neither of them could prove illegal entering of Ts.L. into N.A.'s apartment. The defense party also stated that while inspecting the crime scene it turned out that the provisions of the Criminal Procedure Code of Georgia had been violated. The first instance court found Ts.L. guilty.
In March, 2017, the public lawyer appealed the decision of Sighnaghi District Court to the Appellate Court. She indicated in the lawsuit that the decision was unlawful and ungrounded, there were no direct evidenced. The provisions of law had been violated while observing the crime scene and it was not right to use them as evidences.
On May 18, 2018, Tbilisi Appellate Court satisfied the appeal and found the citizen Ts.L. not guilty.